Experience the taiga wilderness at Camp Three Rivers and enter a world of deep forest, vast rivers, and pristine natural beauty. If you dream of getting away from it all for awhile and living simply, close to nature, we will help you do it! At Camp Three Rivers you can:
Be in the perfect spot to experience Northern Lights when they occur

Explore nature by cross-country ski or snowshoe

Unwind and rejuvenate in the traditional wood-fired sauna (rolling in the snow optional)

Try your hand ice-fishing for perch, pike or greyling

Build your snow cave or shelter (and sleep in it if you like!)

Learn camp and forest skills with the help of the help of your knowledgable host

Sleep in cosy log huts warmed with wood-fired stoves

Get together with your fellow travellers and relax in the group dining hut

Take part in an exciting husky sled adventure tour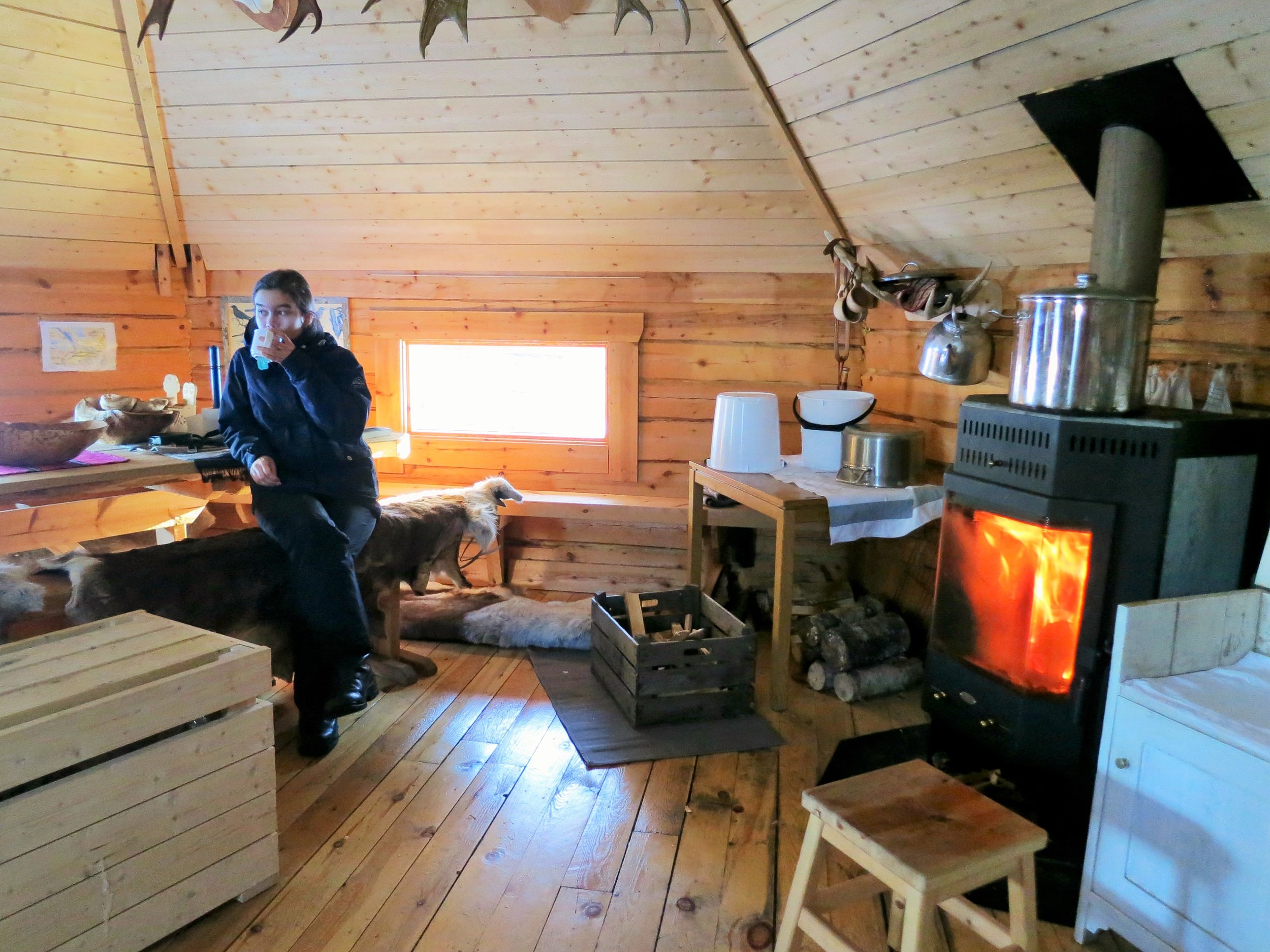 STAYING AT CAMP THREE RIVERS
Camp Three Rivers is located by Torne and Tärendö Rivers. We offer three and six night stays at the camp from late November to early April.
The camp has two two-person sleeping huts with single beds, one double bed hut and one 3-4 person hut. There is a main cabin with kitchen and common area, and a wood-fired sauna. The buildings are warmed with wood-fired stoves and you will be warm and cosy indoors and at night. Guests are welcome in the dining cabin anytime to sit, take it easy or chat over a warm drink.
At the camp you will have access to equipment and the help of the host to get you started on activities including snowshoeing, cross-country skiing and ice-fishing. You will be in the perfect spot for observing Northern Lights.
You have a good chance of seeing reindeer or moose in the area. Otter, forest birds, arctic hare and fox are more elusive but are sometimes spotted. Lynx and bear exist in the area but are almost never seen.
Meals are enjoyed together with the host and other guests. We offer simple but satisfying and tasty meals based on local and organic ingredients. Local wild meat or fish is served at one meal each day. The other meals are vegetarian. We can cater to most special diets with advance notice. Mealtimes are generally around 8 am, 1 pm and 6 pm, but variation is possible depending on the wishes of the group. Tea and coffee is available at all times.
The sauna is fired in the evenings. It's the perfect place to relax and there is warm water for bathing. Guests are free to take turns using the sauna for the sake of privacy.
Guests are welcome, but not required, to help with chores around the camp including chopping and carrying wood and fetching water.
All stays at the camp include pick up and drop off in Kiruna by car or van. As there are no roads all the way to the camp, the final kilometre to the camp will be on snowshoes. Your bags will be transported to the camp by sled.
Prices and Information for 3 and 6 night stays at Camp Three Rivers
SUITABLE FOR
Couples, singles, families, friends. People 9 years of age and up who are in good health and are at least moderately active in their daily life.
DATES AVAILABLE
Winter: November 29 2019 to March 27 2020
PRICES
Three nights at Camp Three Rivers, available Tuesdays to Fridays and Fridays to Mondays: 6000 SEK/person based on double occupancy; 7500 SEK/person based on single occupancy. Children 9-15 years old sharing hut with parent(s) are half price.
Six nights at Camp Three Rivers, available Tuesdays to Mondays: 9000 SEK/person based on double occupancy; 11 250 SEK/person based on single occupancy. Children 9-15 years old sharing hut with parent(s) are half price.
GROUP RATES are available for groups of 4 or more adults booking together.
Arrival or departure on other days of the week is possible for an additional 500 SEK/person/stay.
PRICE INCLUDES
Transfer from and to Kiruna Tourist Information

Accommodation at wilderness camp in single or double sleeping hut (includes bed linen and towel)

Meals and snacks from dinner on the first day to breakfast on the last day

Use of wood-fired sauna in the evenings

Assistance and expertise of wilderness camp host

Loan of ski, snowshoe and ice-fishing equipment
An exciting HUSKY SLED ADVENTURE TOUR is available to be added to your package.
PICK-UP/DROP-OFF TIMES AT KIRUNA TOURIST INFORMATION
Pick up at 14:00 on first day and drop off at 12:00 on final day.